Powerful cross media marketing
and personalization software
Cross media marketing is delivering the right message to the right person at exactly the right time.
Market Direct Cross Media allows printers, agencies and corporates to create, personalize and automate marketing across all media. It does not require any HTML programming skills, and it runs with your existing CRM system. Thanks to an unmatched degree of integration and automation, you will build campaigns and applications faster and more cost-effective. Whether it is the simple design, the convenient management of data and processes, or comprehensive response tracking – everything is part of one solution that runs simply in your browser.
Create, automate and measure multichannel marketing campaigns — no HTML skills required!
Full personalization of all media is easy. Starting your cross media business, there is no need to employ a web-specialist. By using the built-in design editor you will create personal URLs, emails, even entire corporate websites without any HTML skills. Drag-and-drop your way to creating online forms, surveys and registration pages. You will even be able to include impressive personalized images in your designs. Print files can be designed, personalized and generated entirely in your web browser.
Measure and optimize with real-time analytics
Web-based media such as personalized websites and e-mails offer a unique advantage: they allow you to track exactly how your customers are reacting. Measure the success of your campaigns in detail and use the results for yourself or put them at your customer's disposal to optimize following activities. Market Direct Cross Media provides live response tracking with customizable campaign dashboards that can be individually adapted to your needs.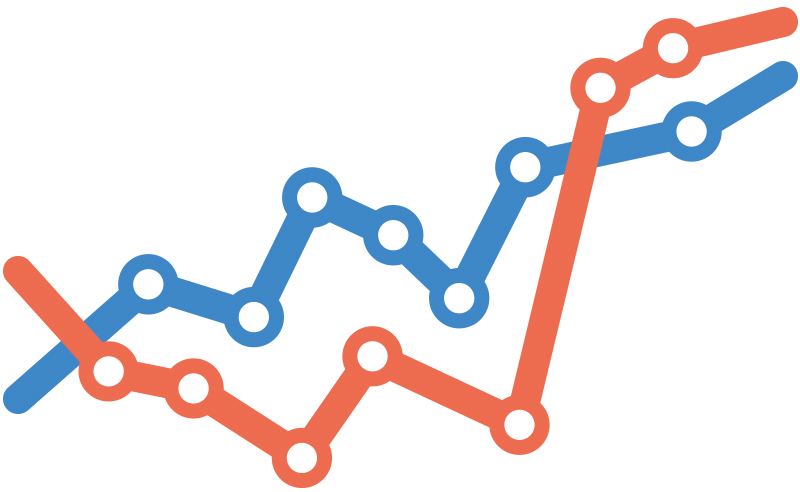 Easy design
Websites and personal URLs
Mobile sites, QR codes & SMS
VDP documents
Personalized direct mail & emails
Interactive customer surveys
Marketing apps & Facebook apps

Easy automation
Manage print as easy as emails
Synchronize campaigns with your CRM
Boost response with personalized images
Send automatic reminders
Trigger follow-up activitiess
Track and analyze all results

Easy offering
Single portal to offer Cross Media services
Reduction of touch points
Easy and secure campaign customization
Faster campaign turnaround
Regional execution using localized messaging

Easy buisness
Premium price opportunity
Secure digital print volume
Higher margins through DIY campaigns
Improved ROI for short-run jobs
Measurable return on marketing investment
Marketing Portals
Market Direct Cross Media enables you to engage with your customers on a completely new level. Now you can create and offer Marketing Portals with ready-made campaigns or print-on-demand applications. Create Portals with cross media templates integrating web, email, social, mobile and print for repetitive runs. Offer your clients a fast and easy way to customize and execute sophisticated campaigns or applications. Increase business without increasing your workforce by selling services that your competitors don't offer.
You will get more print volume and higher margins by offering cross media as a service
Offer a faster campaign turnaround time to your customers
Less cost for layout adoption, data handling or campaign execution through self-service
Personalization across all channels made easy
Real time analytics are provided out of the box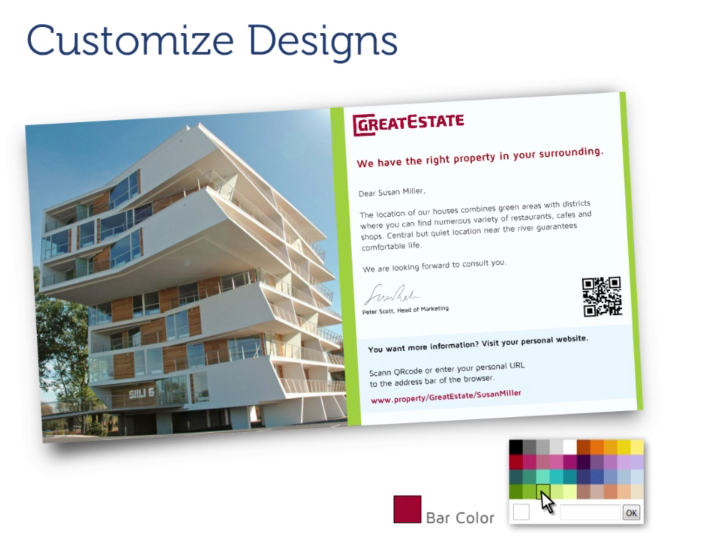 Main features at a glance
Centralized Creation
Create and host apps and campaigns for repetitive runs
Brand Consistency
Ensure brand consistency by locking critical design elements
Contact Management
Each user can easily upload, manage and filter his own contact list
Customizable Layouts
Deliver personalized and customizable marketing materials
Localized Execution
Allow clients to customize and run your services 24/7 on-demand
Real-Time Analytics
Everyone will have an overview of running campaigns
Introducing SmartCampaign – intuitive, powerful campaign design
SmartCampaign is a new way to build campaigns – fast! It's designed to enable you to get campaigns up and running fast, with a Campaign Wizard that makes it easier than ever to get started.
NEW! Design Editor – Powerful HTML 5 based browser-based Design Editor
NEW! Storyboards – for automated campaign creation
NEW! Intelligent Themes for rapid campaign build out and deployment
NEW! Data visualizer – for simple and powerful data connectivity
Design
Starting your cross media business, there's no need to employ a web-specialist. By using the built-in design editor you will create websites and emails without any HTML skills. Thanks to the integrated VDP tool you will also design print files entirely in your web browser.
Powerful browser-based Design Editor
Manage assets, designs, database and live previews easily all on one screen
Central management of all resources
Pre-designed items for data input fields, buttons etc.
Design the web, email & mobile
Create Responsive designs with cross browser and cross platform compatibility
Manage Multi-language content with master pages and modules
For advanced users: import ready-made HTML, apply scripting and extension items easily
Design for print
Full VDP Authoring solution, create a document from scratch I NEW SmartCanvas or begin with a PDF
Support for Imposition and Color Management (ICC profiles)
Generate optimized print-ready PDFs individually or send the production files to your workflow
Use previews of documents on the web, make them editable online or provide them for download
Personalization
Image Personalization for all media with simple drag and drop functionality
Rule-based text and layout personalization in all media
Generate and embed QR codes and personalized URLs
Campaign participants can upload their images and data to the application to generate personalized media
Database
Import all standard databases or access data from Microsoft Dynamics CRM or Salesforce.com or other CRM systems via integration
Modify or export databases and upload new data in real time
Filter data, create business logic for elements in all media using the built-in filter editor
Build data relations to connect multiple databases and develop your own plug-ins to access any CRM system
Campaign Management
Includes a Campaign Manager for automated campaign runs and follow up cycles
Send mass emails, mass SMS, individually triggered emails and individually triggered SMS messages
Set up Inbound Marketing websites with Cookie Tracking
Integrate Social Media and create Facebook apps
Tracking
Web-based media such as personalized websites and e-mails offer a unique advantage: they allow you to track responses accurately. Measure the success of your campaigns in detail and use the results to optimize the campaign.
Customizable Campaign Dashboard for the real-time display of all campaign results for display on mobile, tablet and desktop devices
Track visitors and events on all websites
Email tracking and bounce management
Various reporting options to display metrics and results
Design individually branded reports with automated live updates
What can you do with Market Direct Cross Media?
Direct marketing
Print mail pieces, email campaigns, PURLs, SMS
Web
Corporate websites, micro sites, mobile web pages
Customer Loyalty
Newsletters, feedback, surveys, birthday greetings
Sales support
Lead management, automated sales processes, collateral management
Market analysis
Response tracking, segmentation, user behavior
Event marketing
Invitation campaigns, visitor management